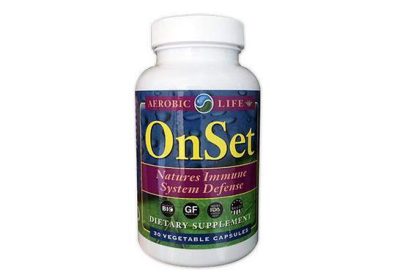 • Begin to take at the "ON-SET" of symptoms
• Natures Immune System Defense
• Easy to use all natural 5 Day program
• Contains powerful anti-oxidants, vitamins, minerals & herbs that may help boost the immune system for fast & natural relief
Contains Potent extracts:
• Reishi, Maitake & Shitake mushrooms may reduce allergies*
• Andrographis which may help promote respiratory health*
• Bee Propolis a potent natural anti-microbial, anti-bacterial*
• Also Contains Vitamin C, Zinc and Garlic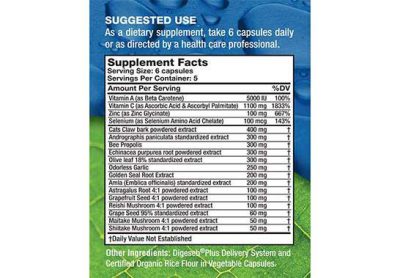 IMMUNE SYSTEM DEFENSE
Aerobic Life's OnSet with Andrographis is a functionally formulated blend of 18 specific vitamins, minerals, anti-oxidants and herbs that have been found to help your body battle a cold or flu. This gives you immune system defense.
Andrographis is known around the world as a powerful herb that may help boost the immune system and has healing effects. This formula may help support your immune system for fast, natural relief, if taken immediately at the onset of any symptoms.
OnSet contains a synergistic blend of botanicals, vitamins and minerals that work in harmony to help stimulate immune response. If you're looking for a proactive product that may help battle a cold or flu, OnSet has it all.
There's no need for 5 different supplements as OnSet contains the most researched ingredients commonly purchased in one convenient bottle.
When to take it/use it:
OnSet should be taken on the OnSet of cold or flu symptoms.
Suitable for:
OnSet is suitable for those that are looking for natural ways to help boost the immune response. OnSet may be used by ages 12 and older.
Suggested Use:
As a dietary supplement, take 6 capsules daily.