EnzyBiotic® is a superior digestive aid. EnzyBiotic® is our latest breakthrough in digestive enzyme and probiotic support. It is a blend of plant-based digestive enzymes and 10-strain probiotics.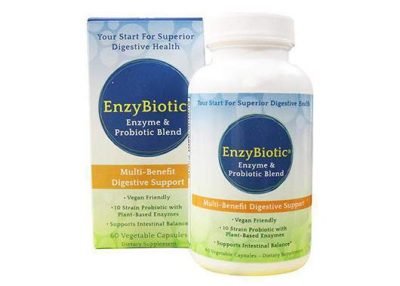 All-In-One Support For Digestive Wellness. Healthy digestion requires a balance of digestive enzymes and probiotics (or "good bacteria") to properly break down food in the stomach and intestinal tract. EnzyBiotic® combines the benefits of plant-based enzymes with 10 active probiotic strains for a comprehensive, all-in-one supplement formulated for multiple digestive benefits. Check out the label: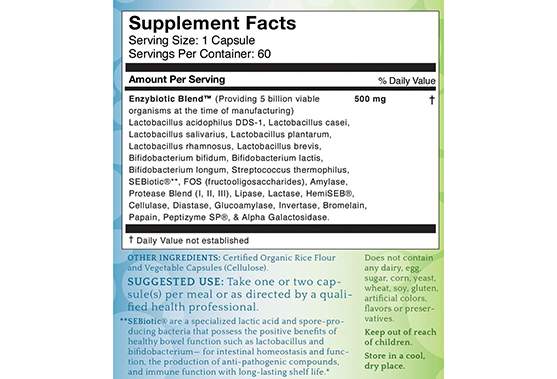 Digestive enzymes and probiotics naturally help the digestive system break down vital nutrients like carbohydrates, proteins, and fats for efficient digestion and enhanced nutrient absorption.
Who is it for? EnzyBiotic® can be used by anyone looking to supplement their diet with digestive enzymes and probiotics, or who are experiencing common digestive discomfort such as:
• Bloating
• Gassiness
• Indigestion
• Leaky Gut
Stomach Health. Digestive enzymes naturally support the digestive process in the stomach.
Intestinal Health. Active probiotics promote "good bacteria" in the gastrointestinal tract.
Immune Health. Digestive enzymes & probiotics can help modulate the immune system, enhancing the body's immunity.
EnzyBiotic® meets cGMP standards and is manufactured in our FDA compliant and registered facility. It is gluten free and made in the USA.